OP: https://lihkg.com/thread/1763931/page/1


by Apple Daily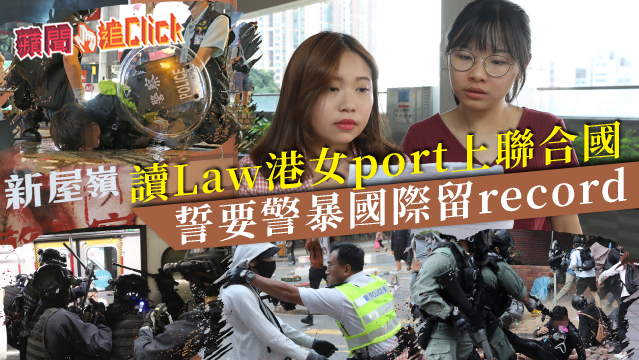 More than 10,000 tear gas canisters were deployed, over 6,000 rubber bullets fired, and at least 2,000 people were sent to the hospital for treatment, on top of a significant number of wounded that dared not to seek medical treatment in hospitals in fear of arrest. At the same time, there have been constant accusations that the police obstructed rescue efforts, tortured the arrestees in the police station with some sexually violated. The police's siege of the @PolyU was suffocating, but the number of police officers prosecuted for indiscriminate violence so far is a pale zero. Since the government has repeatedly refused to establish an independent investigative committee, #HongKongers have spontaneously recorded police violence cases. Meanwhile, an anonymous team wrote 400 pages of a Chinese-English civil survey report in a database for online public viewing. A law student with the alias 'Kong-Girl Law Student' (aka.KGLS) has written a self-deprecating essay "Not Giving Up For Anything" in LIHKG, and wrote a shadow report on the situation in Hong Kong and sent it to the United Nations, vowing to mark #HKPoliceBrutality in world history.
At the same time, the police have emphasized that they will not allow any police officers to abuse lynching. They have also pointed out at a press conference that if any civil servant or public official, while performing official duties, "deliberately cause severe pain to another person is categorized as torture." However, a large number of civilian videos and photos have been ignored as evidence. Police brutality has already "integrated" into the lives of Hongkongers. The effectiveness and checks and balances of police powers of the IPCC and CAPO are minimal. The independent investigation committee that the public has strongly demanded will not get any answers any time soon. So international interference appears to be the only way out. Angie, a third-year student of the University of London's law department, and Venisa, a fifth-year student of political science and law at the University of Hong Kong, found dozens of enthusiastic Hong Kong people living abroad through LIHKG in September. They shall put together a report detailing #HKPoliceBrutality and submit it to the UN.
Angie believes that #HKPoliceBrutality is a systemic issue. "You can solve it by putting one or two police officers with offences in prison. Also, for example, the so-called Notice Of No Objection should not even be a condition to control the public from taking to the street as that is our rights. Issues as such cannot be easily solved by either criminal or civil proceedings, so I must voice out through the UN."
The NOPAID team has made over 400-pages of the survey report.
On October 2nd, the first shadow report (that is, a report written by the people) was sent to the United Nations to lodge a complaint with photos and videos, including English subtitles that the team volunteered to help translate. The report began with the incidence in which the police fired in close range at the left chest of a demonstrator on October 1st, and then according to different incidents since June, it lists out the contents of which convention the police act allegedly violated. Even if the United Nations would respond, it is also necessary to call, through China, the Hong Kong government to submit a report. However, after reading the report, if the various Commissioners would conduct discussions in different situations or meetings, then that would mark #HKPoliceBrutality in global history.
(Editor's note: scroll down for part 2
)