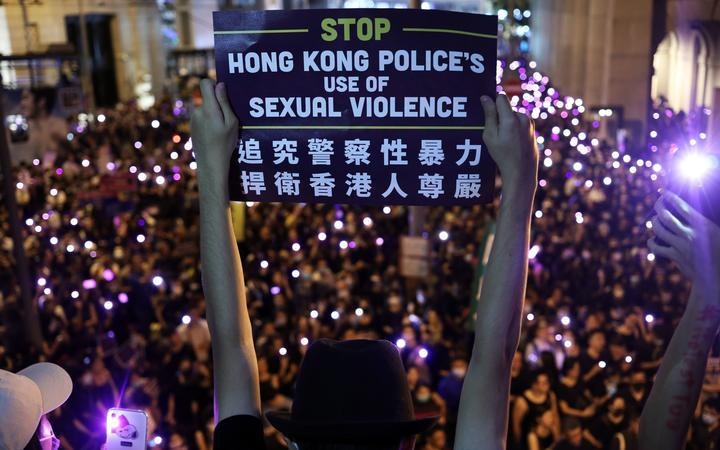 Credit: AFP
It is no secret that the Hong Kong Police Force has used increasingly violent and morally reprehensible measures to crack down on human rights in Hong Kong, aided and abetted by the government. Despite hard video evidence and compelling witness accounts, the police have not been held accountable for their crimes. Among the most heinous of these human rights transgressions, often overlooked by observers, is their consistent and overt
use of sexual violence
as a tool of oppression.
Arrested Protestors Routinely Subjected to Sexual Violence
In the first few months of the protest movement in Hong Kong, there had already been many accounts of
female protestors being strip-searched
in the presence of male police officers after they had been arrested. Victims described
male policemen jeering and commenting on their sexual organs
, while female officers looked on in quiet support. Male police officers have been captured on video manhandling female protestors and assaulting them in the breasts and genital areas. Confronted with these claims, the police force strenuously denied any wrongdoing and claimed that there was a conspiracy against them.
Indecent Assault During Frisk and Wall Search
Without any checks on their power, police officers have become even more shameless in their use of sexual violence. Last week, when police officers stopped double-decker buses at bus stops for random searches,
several women were forced to strip to their underwear in public
, purportedly to show that they were not carrying any weapons. Many have also lodged formal complaints about having their underwear dislodged and their private parts exposed while being frisked. A majority of these young women had been searched at whim, and were not even under custody. The problem of the police's sexual violence potentially extends to every single woman in Hong Kong.
Gang Rape in San Uk Ling Detention Centre
The notorious San Uk Ling Detention Centre, near the Hong Kong border with mainland China, is the crime scene of some of the most horrifying acts of sexual violence in the past few months. In a detention centre where no CCTV monitoring is available, female protestors were strip-searched in pitch-dark cells, and many were even
gang raped by police officers
. Their male companions were forced to watch before being beaten and tortured themselves. Female detainees were not the only victims:
male detainees were also subject to repeated anal rape by police officers
. Calls for an independent investigation were firmly rebuffed. No one, including legislators and lawyers, were allowed into the detention centre, leaving victims with little recourse to justice.